Smoking ban
s kill businesses-FACT!
Couple of quickies here to amplify the total lunacy of smoking bans and the liars that support them.
We know that smoking bans kill businesses-just look at my constant 'header'. We know that in excess of 13,000 businesses have now gone to the wall since the introduction of the smoking ban. We also know that more than 700 CIU clubs have received rate rebates due to the rapid downturn in business, but according to one Linda Bauld, a highly over paid yet under knowledged soul attached to Tobacco Control there have been no business losses. Just shows the length & depth of the powerful financial arm of the pharmaceutical industry!
Over in America we have a similar situation where CDC Director Thomas Frieden stated as established truth that smoke-free policies "don't hurt business,"and then promised a study would be forthcoming to back that ridiculous statement up. Now how could they produce a truthful study to do that as such a thing is/was absolutely impossible? Did they trot off to Michigan and ask all the ex bar owners about this strange anomaly or did they simply assume that the bars were never any good in the first place? Our warrior in Grove City, Ohio, (Pam Parker) tells it as it is here.
And in an interesting update on the smoker shooter situation, bar owner (Chris Ferrell) has now been charged with the murder of country singer Wayne Mills-as he should have been immediately after the event
.
Wayne Mills will no longer be entertaining folks in the bars & clubs in the Nashville area - or anywhere else for that matter! if you remember he lit a cigarette in a no smoking area and was then shot by Ferrell..... "in self defence!"
Not quite sure what this imbecile thought he was defending himself from as apparently the only thing in the dead guys hand was a lit cigarette, fully loaded with blanks!
Defence lawyer stated that "we have every intention of contesting this charge. My client denies that he is guilty of any degree of homicide."
Unbelievable really for the only self defence possible is that he (Ferrell) thought he was about to be subjected to the equivalent of sarin gas, therefore his life was in danger! (is there a report anywhere that states that the deceased was about to slap this fool, stab him, shoot him first, stub his cigarette out on his shooting hand, shove his guitar up his ass or any other form of violence?) The man is an idiot and if this is his defence then I hope that, at long last, the truth about SHS, 3rdH/S and what ever other degrees of smoke have been/may be announced by court case time, are brought to light and totally refuted by the jury. But then, being America, they will have to select the right jury for a trial based on such a defence-no point having 12 anti smokers on the panel for Ferrell would walk away a free man with a $1m bonus for bravery!
Carmona-born to lie for money!
The other matter of course is that all this government hysteria about smoking, SHS et al has led toward this event occurring as they (health freaks) have brainwashed hundreds of thousands of people into believing that even a wisp of cigarette smoke will kill at 30 paces. We have former "Surgeon General" Richard Carmona to thank for this ridiculous situation for it was he that stated there was no safe level of exposure to SHS! look where that idiotic statement has got us now! I seriously think that it is time to reverse all this psychobabble on these anti tobacco nutters - don't you?
It is very sad that the situation has evolved where an innocent entertainer of millions ends up shot to death by some anti smoking nutter but this is exactly what was always needed to show these prats in power exactly what they have created. Roll on the court case for we shall follow this with interest.
The final act of lunacy (now been signed into law) is by Michael Bloomberg, as his parting gift to New Yorkers. Under 21? then you can't legally buy cigarettes!
How utterly insane is that when they can draft you into the US Army at 18, send you off to get your head blown off, an arm go missing or simply legless courtesy of some roadside bomb but you can't buy a packet of smokes. It really is about time these imbeciles took a long hard look at all the rebellion they are storing up on both sides of the water. God forbid you should lay in some desert region, bleeding to death and ask for a last cigarette - nanny Bloomberg would have a fit! It is probably the best thing for NY that Bloomberg has finally retired for what a hypocrite he is, donating $500,000 to foriegn anti cigarette structures yet leaving 1/3rd of his inhabitants living below the poverty line! Doesn't say much for the man really does it!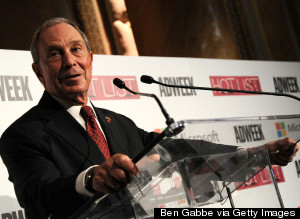 Don't let this country follow suit, act before it is too late
-->